Sydney Royal Easter Show was a normal show with nothing to report. Other then Germanicus Hall of Fame (Hank) winning GSP puppy of breed. You win some, and you lose some...
My very exciting new is that Germanicus Andromeda (Anni) can now be known as "AUSTRALIAN GRAND CHAMPION GERMANICUS ANDROMEDA". I Couldn't be prouder of this gorgeous girl.
Hot on her mum's heals "Germanicus Let me Love You (AI), (GR Ch Germancius Andromeda & Ch Oakridge Intercooled) has had 2 outings in the show ring and blitz's it yesterday with a Baby In Show..... Go Hunter.
Sydney Royal Easter Show for 2018, has been and gone and Again our Star was Ch Germanicus Andromeda (Anni) who was Runner Up in Speciality Show.... Grand Ch Germanicus Arko was Reserve Dog and Germanicus Famous Last Words, Junior Dog of Breed. .
Grand Champion Germanicus Arko dose it again.... BEST IN SHOW - Hillsborough Feb 2018...& in Cootamundra in May 2018
NOW: He new title is 'SUPREME CHAMPION GERMANICUS ARKO".....
Sup Champion Germanicus Arko goes No 1 GSP Showdog in NSW on both Dogzonline & Top Dog Australia in 2018 & 2017 and is currently leading the charge in 2019.
Germanicus Famous Last Words (Kain) goes No 1 GSP Rising Star NSW on both Dogzonline and Top Dog Australia Pointscore 2017(Photos Below)
Germanicus Kennels whelped their first litter in March 1973 and our last littler was in October 1984.
Between Germanicus Arko and Germanicus Andromeda they are both No 1 & No 2 GSP's in NSW again... 2016 & 2017
And young Mr Kain "Germanicus Famous Last Words" is NO 1 Rising Star GSP puppy in NSW. Not bad for 4 months old... Now at 10 Months of age he is still No 1 Rising Star GSP in NSW and No 2 in AUSTRALIA.....
OMG... Doesn't get much better then this, Germanicus Kennels is SO Proud to announce its first ever GRAND CHAMPION. & NOW SUPREME CHAMPION....
AUSTRALIAN GRAND CHAMPION GERMANICUS ARKO... 3 YEARS OF AGE... & SUPREME TITLE AT 3 1/2 YEARS OF AGE...
Puppy details for 2018 are in our Puppy page.
Wow, I have so much to tell everybody. Sydney royal 2017 has been and gone again. We had outstanding results with our dogs with the STAR of the show being Miss CH Germanicus Andromeda (Anni) who won BEST IN SPECIALITY SHOW out of 49 other GSP's. Mr Harto Stockmair from Finland loved her and gave me a critique on her as "She is very feminine. Excellent proportions. Beautiful head and expression. Lovely neck, top-line and tail-set. Excellent front and forechest. Well-bodied and good length of briskett. Good length of step breed-typical movement" Attached are some photos from the royal in our 'Photos' Section.....
The final wash up from the show was:
Ch Heiderst Winter Wonderland, (Storm) Reserve Dog at Sydney Royal and Aust Bred in Show at the Speciality.
Ch Heiderst All About Darla (Darla) Reserve Bitch at Sydney Royal and Reserve Bitch at the Speciality.
Ch Germanicus Arko, 3rd in both his Royal and Speciality Class, but was handled by 10YO Sahra Garside, and they won "Handler of Handlers" at Sydney Royal
Germanicus Edge of Reason (Evie) won her Puppy bitch class at Sydney Royal and Placed 2nd at the Speciality.
Sydney Royal & The GSP Speciality show has been and come again for 2016. For the speciality, Sup Ch Heiderst Be Karma wins Runner Up in Specialty Show, Ch Germancius Andromeda "Intermediate in Show", Bella, Anni, Darla & Soldie all win their bitch classes.
ARKO IS CURRENTLY NO ONE (1) GSP IN NSW.... WOW.. WE ARE SO PROUD OF THIS BOY AT 2 YEARS OF AGE....
ARKO GOES BEST IN SHOW AT TAREE OCTOBER 2015 - at 14 MONTHS OLD.......Arko does it again.... Another Runner Up in Group. Not bad, 2 x Best in Group's & 2 x Runner Up in Groups in the past few outings.
2016 has been a wonderful year of showing with Mr Arko winning numerous Best in groups and RU IN Group.
Arko is No 1 GSP in NSW on the showdog & breeders point score on DOGZONLINE and Also No 1 NSW GSP on the TopDog Australia Point Score. Not bad for a 2YO GSP. .(2015)
In 2016 Arko is again No 1 GSP in NSW (breeders contest, Dogzonline) and No 1. GSP in both TopDog Australia Pointscores.
We now have 3 Australian Champions, both Anni & Arko both at 12 months of age and Bella Donna at 9 months.
We will be resuming our breeding program for June 2020,If you are interested please contact me on 0412705914 or via email on germanicuskennels@gmail.com
All our dogs come from outstanding Show and Field lines.
When temperament matters, our dogs have wonderful natures, are brought up with children in a family environment and also socialised with older dogs. Mum, dad and offspring can be viewed.
All puppies will be microchipped, vaccinated, wormed, registered and come with a puppy pack. All puppies are sold on the Limited Register. Puppies will be microchipped at 6 to 7 weeks old and dew claws will be removed.
Enquiries welcome, Interstate transport easily arranged goodkam@hotmail.com.au or call me on 0412 705 914
Below: Our first GSP's in 1971.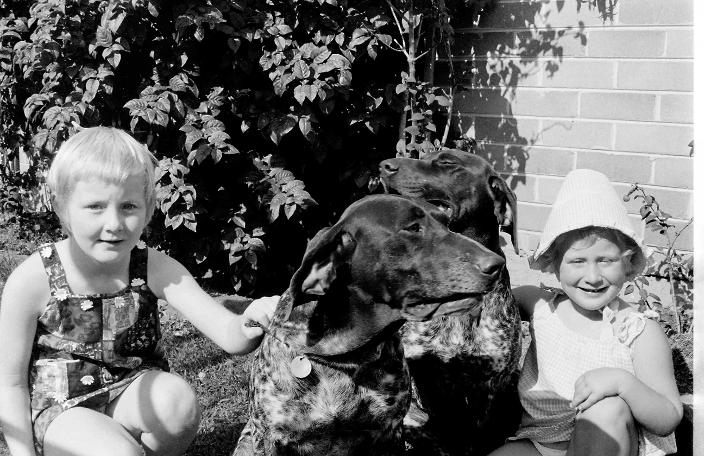 oPhoto below taken at Sydney Royal 2015 - GSP Speciality. Ch Heiderst All About Darla - Aust Bred in Show, Germanicus Andromeda, Puppy in Show and Germanicus April Showers - Minor in Show. A fantastic family photo of Mum and her 2 daughters. xxx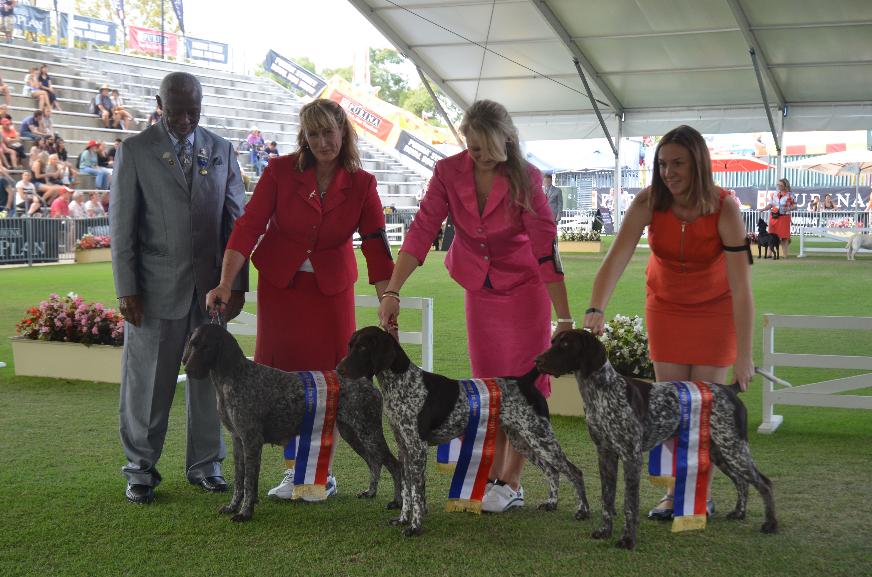 Below. Current ad dated July 2017....